After more than a year of being in the works, the Seattle Niners Faithful app is live! On Wednesday evening, the Android version hit the Google Play Store. The iOS app launched Saturday morning.
The available features are aimed at both existing club members, and new folks who have just found us. Information about the club, news, an events listing and a map with our viewing locations, it's never been easier for members to stay in touch with the goings on of the club.
Spot someone out and about in Niners gear and don;t have a recruiting card? No worries! Use the recruiting section, drop in their email info and they will be emailed a welcome with links to our social media platforms, website and apps.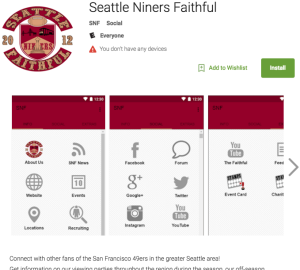 There is a section with links to access all of our social media, from Facebook to Instagram, Twitter to YouTube.
We also now finally have loyalty cards for both our club events and charitable causes. As a social club, we want to be more than just a Facebook forum. Come out to our viewing parties, BBQs, off-season events or participate in one of our charity initiatives to earn stamps that can win you prizes!
And, finally, we'll be able to keep members apprised of important news and remind them about events with push notifications. Never has it been so easy to stay in touch with the club so that you never miss out on something again.