For the second year, Seattle Niners Faithful took part in the Polar Plunge to benefit Special Olympics Washington. Jumping into the Puget Sound in February isn't exactly what we'd call enticing, but it benefits a great cause in our community.
Each plunger was required to raise a minimum of $75 to take part in the event. We ended up with a total of 23 plungers — over double our required number of 10, and earning us the Biggest Team award. We needed to raise $750, and absolutely blew that away with a total raised amount of $6,481. This over doubled our number from 2015. We fell just shy of the award for most raised, thanks to a late push of another team that was inspired after we were shown on local television as being in the lead.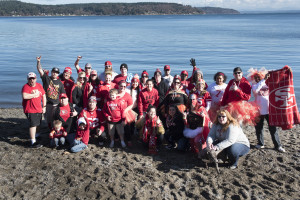 For the second consecutive year, we won the Team Spirit Award. Despite the friendly jeers of the other teams due to our being decked out in red and gold, everyone at the event was friendly and extremely supportive of our participation. We had so many people come up to us with kind words that we were so interested in giving back to a community that, uh, isn't always supportive of us.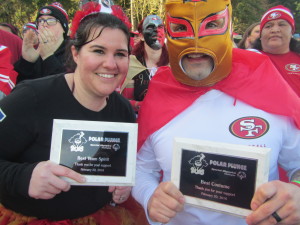 Our third award came as SNF VP Gerald Rael won the costume contest, draped with a cape and donning a lucha libra style 49ers mask.
All in all, it was a wonderful event that benefitted a great cause. We're already dreaming big about crushing these numbers next year and continuing to build upon our positive view within our community.